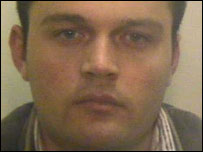 London, UK: An Albanian wanted for the allegedly racist murder of a Sikh father of two has been extradited to Britain after being found working as a chef in Ireland.
Artan Hysaj was arrested in the town of Malahide in August and now faces a murder trial in connection with a fatal racist attack on Kalvinder 'Bob' Singh in Manchester.
Hysaj, 32, is alleged to have been part of a gang that attacked Singh because he had white friends.
In the attack at the Burning Balti curry house in Manchester in April 2004, Singh's head was stamped on and he was beaten with sticks and a bottle.
He suffered a fractured skull and died two weeks later.
According to British media reports, Singh, 31, was attacked by the gang for being in the company of white people.
Hysaj, who was arrested in a chef's attire at a restaurant in Malahide, near Dublin, was flown to Manchester last week and is expected to be produced in court soon.
He faces charges of murder, intent to cause grievous bodily harm and violent disorder.
The case was featured on British television in 2004 and, a year later, another Albanian, Marjan Semaj, 22, was jailed for life for murder.
In April this year, a third Albanian, Emirjan Hisaj, was charged with murder. Police are still looking for a fourth man, Alfred Kurti, also an Albanian.

Source: IANS