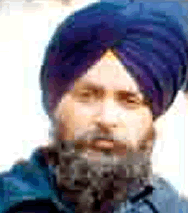 Amritsar, Punjab: After SAD MLA Virsa Singh Valtoha removed turban of a Congress MLA Kewal Singh Dhillon in Punjab Vidhan Sabha recently, the SGPC member Jaswinder Singh Advocate the so called champion of Sikh cause, replayed the act outside Golden Temple where he slapped a police official and removed his turban in full public view. Jaswinder Singh Advocate,  also member of Turban Pride Movement, organises Mr.Singh competition every year to upkeep the respect of turban and runs a NGO in the name of Akal Purkh Ki Fauz. He is a 'Dhodi' by profession and also supplies milk to SGPC.
He allegedly beat up Police Head constable Tajinder Singh outside the Golden Temple and pulled his turban, the symbol of Sikh pride.
Tajinder in his complaint to police alleged that last night he went to Golden Temple alongwith his wife to pay obeisance and when he was coming out, saw his colleague Traffic Head Constable Lal Singh was being roughed up by SGPC member Jaswinder Singh.
Tajinder said that when he attempted to pacify Jaswinder Singh who along with his associates removed his turban, torn his clothes and brutally beaten him up in full public view and fled away.
Confirming the receipt of complaint, Punjab Police ASP Dhanpreet Kaur said that matter would be investigated and both Advocate Jaswinder Singh and complainant Tajinder were asked to appear in her office tomorrow.
However, police head constable Lal Singh who was on duty last night said that problem cropped up when advocate Jaswinder Singh parked his Inova car on wrong parking which was creating severe hardship to visiting devotees to Golden Temple. He said when advocate Jaswinder Singh was requested to remove his car from wrong parking, allegedly started hurling abuses, but when his colleague Tajinder Singh intervened, he was physically beaten up in full public view.