Delhi Police book DSGMC chief Sarna for cheating
New Delhi, India: On the directives of the Delhi High Court, the police registered a case against Delhi Sikh Gurdwara Management Committee president Paramjit Singh Sarna for cheating. Sarna is accused of handing over the work of a hospital in Bala Sahib Gurdwara to a private firm against rules. 400 bed Bala Sahib Hospital built by Baba Harbans Singh Ji for the treatment of our poor brothers & sisters is sold to private company for unknown amount by Sarna Brothers. Also the parking lot land of Gurdwara Bangla sahib built by Baba Harbans Singh ji has been given away to Delhi govt by Sarna for their vested interests.
Parking and Construction Projects
Sangat have accused Delhi Gurudwara Management Committee president Paramjit Singh Sarna of mismanaging the committe's affairs by not maintaing its schools and giving tenders of developmental projects to his relatives. They also alleged that Sarna was launching unimportant projects. Launching development programmes of gurdwaras to make money giving project to their relatives.
Kendriya Guru Singh Sabha president Tarvinder Singh Marwah alleged that Delhi Sikh Gurudwara Management Committee is not handling the schools properly and Jasjit Singh , President Shiromani Akali Dal Delhi-UK said that the parking project for Sis Gunj Gurudwara was not the need of the hour and Sarna brothers are making money by giving tenders of development projects to their relatives.
Sarna Supports Troublemakers
Sarna gave Delhi Gurdwara stage to Prof Darshan Lal – He spew venom against Dasam Patshah and his banee and got excommunicated.
Sarna gave Delhi Gurdwara stage to Dhunda – He spew venom against Jaap Sahib, Dasam Patshah banee, Sikh traditions and attacked Sri Harmander Sahib – He is now summoned at Akal Takhat.
Sarna continues to invite Dhunda's missionary cohorts to Delhi and gives them Delhi Gurdwara stage. One of them is Sabhra who is openly seen accompanying Prof Darshan Lal and hence defying Akal Takhat Hukamnama.
Sarna has appointed Tarsem Singh as the Chairman of his Dharam Prachar Committee. He has repeatedly defied Akal Takhat Hukamnama by hosting Prof Darshan Lal in Delhi on many occasions. Last year Tarsem even went to Chandigarh on the invitation of Joginder Spokesman and gave a lecture in his honor.
Sehajdhari Case
It is well known fact that Capt. Amarinder Singh (Congress) and P.S. Sarna supported the anti-sikh campaign of Sehajdhari Federation against SGPC. Many panthic bodies of Punjab saw a "conspiracy" in a former Advocate General's statement before Punjab and Haryana High Court about the Centre withdrawing the 2003 notification on SGPC polls.
Akali Dal (B) alleged that Punjab Congress leader Capt Amarinder Singh and DSGMC president Paramjit Singh Sarna were hand-in- glove with former Punjab Advocate General Harbhagwan Singh. "He misinformed the High Court that the Centre had withdrawn the 2003 notification, even without instructions from the Home Ministry," said Badal.
"The Home Minister has informed today that no one authorised the advocate to say anything about the notification on behalf of the Centre." This amounted to a "fraud" with the High Court as well as the Sikh community and this should not be tolerated and the guilty should be punished.
Sarna's and RSS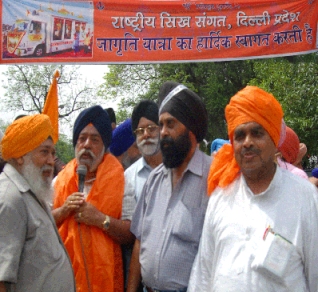 According to press reports, Ujjagar Sinh, president of the Rashtryia Sikh Sangat (RSS) Delhi unit, and Paramjit Sarna of the DSGMC approached a stall setup by the RSS during the Guru Granth Sahib Jagitri Procession and praised the right-wing organization's efforts and sewa.  Ujjagar Sinh also stated that the RSS workers at the stall then honored Sarna with a siropa.
He claimed that the entire event was recorded by RSS workers, including the conversation in which Sarna stated that they are not Rashtriya Sikhs but Guru-kay-Sikhs. In response the RSS President replied, "we are Guru-kay-Sikhs. We are Guru-ki-Sangat. The word Rashtriya is just part of our organization's name."
It should be noted, that in a memorandum released in July of 2004, Sri Akal Takht Sahib instructed the Sikh Nation to boycott both the Rashtriya Swayamsevak Sangh and its offshoot Rashtriya Sikh Sangat due to their anti-Panthic activities and agenda. – Panthic.org
Sarna and Anti-Sikh Elements
The list of Anti-Sikh activities of Paramjit Singh Sarna and misdeeds is endless. Paramjit Singh Sarna gifted Saropa to the GrandSon of the Anti-Sikh Editor of the Punjab Kesri notorious Lala Jagat Narayan and that too within the premises of Gurudwara Rakab Ganj. [ video link ]
Sarna's honoring spree

He Honored Sajjan Kumar with Saropa.
He Honered Lala Jagat Narain's son with Saropa
Supported Sajjan kuamar's brother in election
Never Joined Riot Victim's Protest and worked hard to stop pension of 1984 widows.
Denied Akhand path for Riot Victims
Asks Sikhs to forgive those involved in 84 Carnage (without them even acceppting their role)
Sarna with too much Power?
Sarna used bad language in the presence of Guru Granth Sahib for a Gursikh reporter. Then he got that Sikh reporter beaten up, although could never prove him wrong. Paramjit Singh Sarna President of DSGPC along with his men beat up a Sikh who was pointing out the illegal activities going on in Rakab Ganj under the nose of Sarna. Sarna also abused the Singh in the Gurdwara Parisar. This Singh also protested against consumption of eggs and meat within Gurdwara premises during wedding functions. Sarna yelled nasty abusive words at him at the Gurdwara itself. [ Video Link ]
Sarna renting Gurdwara halls for Parties
Recently, the Proud Khalsa Network published videos and photos uncovering despicable evidence of beadbi on the sacred premises of Gurdwara RakabGanj Sahib at the Lakhi Shah Vanjara Hall.  Gurdwara Rakab Ganj Sahib is the site of Lakhi Shah Vanjara home that was burnt to cremate the body of the Guru Teg Bahadur Sahib Ji after martyrdom.  The images show discarded cigarettes, chicken meat, egg shells, and alcohol glasses among other garbage left by wedding guests in and around the sacred Palki where Guru Granth Sahib Ji's Parkash is done in the large divan hall. [ Video Link ]
Sarna on 25th Anniversary of 1984 Sikh Genocide
Anti-Sikh Paramjit Singh Sarna Gaddar also refused to give permission to organize 25th Anniversary of 1984 Sikh Genocide where thousands of Sikhs lost their lives. It is estimated that more than 20,000 lost their lives. Instead of giving permission to organize Akhand Path, Paramjit Singh Sarna went to Shiela Dixit's house and gave her assurance that Sikhs of Delhi will only vote for Congress. Not only that, Sarna started harassing and leveling some serious defamation charges against the most respected Sikh Lawyer, H.S. Phoolka. HS Phoolka spent years without any fees to help Sikh widows. Under tremendous pressure from Sarna to drop all cases, H.S. Phoolka offered to quit all cases until Sri Akal Takht Sahib intervened. Later on Sri Akal Takht Sahib summons Sarna over his remarks against Phoolka. [ Video Link ]
Sikh Sangat around the world should call upon Parmjit Sarna t0 submit resignation and stop looti and creating trouble in Sikh Community.