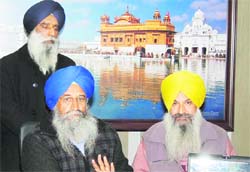 Amritsar, Punjab: Three days after armed activists of Sri Guru Granth Sahib Satkar Committee, a private outfit, attacked SGPC employees with sharp-edged weapons, the SGPC today talked tough and warned the committee to mend its ways, besides announcing to approach the Akal Takht over the issue.
Addressing mediapersons here, SGPC Secretary Dalmegh Singh alleged that the committee was unnecessarily intervening in the SGPC's work. He accused the committee members of carrying out searches in different gurdwaras on their own without having any authority to do so. "Who has given them the right to act in such a manner?" he wondered. He further charged the panel members of attempting to conduct a search at an SGPC-run gurdwara in Kartarpur, besides taking away some literature from the house of writer Anoop Singh.
He claimed the SGPC was receiving complaints against the committee from different quarters. He said if at all the committee members fond something wrong at a religious place, they could sort out the matter in a peaceful manner by initiating a dialogue. "Assaulting individuals and taking law in hand is not a solution," he added.
Dalmegh also showed a video footage of the committee members brutally thrashing some individuals for allegedly committing sacrilege at a Ludhiana village. He said by resorting to such a move, the panel members not only took law in their hand but also exhibited disrespect to turban as during their action turbans of the aggrieved individuals fell off. He also lashed out against a committee supporter, Gurjinder Singh, who targeted the SGPC in an interview to a foreign TV channel, alleging that he himself had been booked for smuggling of drugs in the Chabbal area of Tarn Taran in 2006. He also produced a copy of the FIR lodged against Gurjinder in this regard. He cautioned Sikhs to be aware of such elements and "don't allow themselves to get misled by them".
Earlier, a group of armed activists belonging to the committee had attacked employees of the SGPC's publication wing in the city on January 31, accusing them of perpetrating sacrilege of religious scripture. Subsequently, the police had registered a case and arrested some of the activists of the committee involved in the violence in which some SGPC employees suffered injuries.