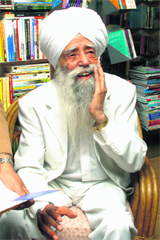 Chandigarh, Punjab: Young at 100, the Turbaned Tornado Fauja Singh is all that one associates youth with — active, amusing and ambitious! In Chandigarh for book-signing with his biographer Khushwant Singh at Capitol Book Depot-17, the world's oldest marathon runner Fauja Singh shares excerpts from his life.
"It's difficult for an old man like me to run a marathon," says Fauja Singh, dressed in a white suit with a white turban. "I have had tough experiences while running. Once I just couldn't move one of my legs, at another I fainted but each time I managed to finish the run though," he says.
So enthusiastic is Fauja Singh about running — a passion that he developed in his late eighties — that he often lies to his family, which forbids him to participate in marathons due to his age. "I cannot lie down for long; I can't sit or even stand for long. It's my daily four hour walk that keeps me alive," says the old man with a twinkle in his eyes.
Pretty impressed by England and its people, Fauja Singh who moved his base from Punjab in old age, cannot help but praise them. He blushes when someone refers to his fan-following that includes a large number of British women.
"British are the same from the inside and outside. Not like Indians who pose as something and are otherwise. What's heartening is that Indians who live and work there have also developed this 'honest' trait." Adjusting to new life did not come easy for him though. "My coach has been my mentor, but he also had a tough time making me adapt to life in London."
One person who comes again and again as Fauja Singh narrates episodes from his happening life is his coach Harmandar Singh. Narrating a funny incident he says, "Once I was invited by Queen Elizabeth II for tea. My coach said I should not try to hug her the way we hug young girls. Just shake hands." Fauja laughs as he repeats his coach's lines.
Another incident that he mentions is Adidas's shoot where he took 36 takes to say the tagline 'Impossible is nothing'. "Well I am a simple Punjabi, I can't even converse in Punjabi well, so English was indeed tough," he says before he breaks into a laughter. His love for clothes and shoes is well-known. He explains, "See, people don't spare me whether I dress well or not. If I go dressed rather poorly I am chided for not taking care. If I go out in a suit they say dekho budha hai yeh (see this old man) and they make fun of me," says Fauja Singh.
Though one can see his neat suit and shoes but the gold (he has this thing for gold bracelets and chains) is missing. His biographer Khushwant Singh does the explaining. "His children ensured that he removes gold before coming to India lest someone kidnaps him and demands a ransom of two-and-half crores.'
Fauja Singh shares the cultural shock. "In my village, my grand niece told me that she no longer wears the gold earrings for snatchings are common even when they go to the village well to fetch water."
So, will he continue to run? "Does a businessman ever stop business because he has lots of money," he shoots back. His one-liners continue to generate laughter as his fans queue up to take a copy of his biography Turbaned Tornado that he signs painstakingly in Urdu.