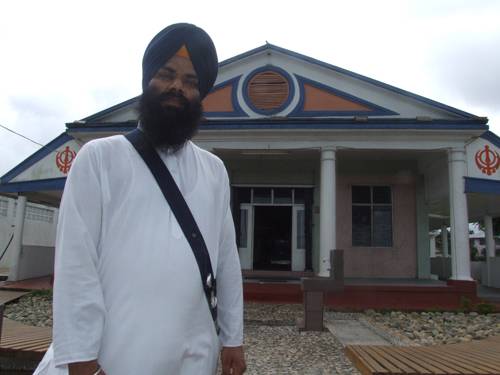 Fiji: Khalsa College and Khalsa Primary in Ba have completed a fascinating journey of 50 miles and the institutions which are run by the Sikh Educational Society of Fiji, will be busy this week in their golden jubilee celebrations.
The Labasa Sikh community has also established two Khalsa institutions. There is another one in Sigatoka – Nadiri Bay Khalsa Primary School. Quite often a question is asked by some of our non-Sikh friends about the meaning of 'Khalsa' and what this term stands for.
The term 'Khalsa' is a modified form of the Urdu word 'khalis' which means 'pure'. In the context of Sikh history, it is interpreted to mean 'pure faith' or a 'pure person'.
Guru Nanak (1469-1539) was the founder of Sikhism and Guru Gobind Singh (1660-1708) laid the foundation of Khalsa Panth which may be best described as an order, as a society possessing a religious foundation and a military-type discipline.
In a religious gathering at Anandpur (1699), Punjab, Guru Gobind Singh asked his followers to get ready to fight against injustice, persecution and tyranny, perpetrated by the rulers of those days.
He infused in his followers martial spirit and spirit of bravery and boldness, fearlessness and courage, and asked them to become 'saint-soldiers'.
Historically speaking, since then the Khalsa community has been a community of devotees, warriors and martyrs, the examples of whose sacrifices and suffering stand unrivalled.
Guru Gobind Singh framed some dos and don'ts for those who embraced strict principles of Khalsa order. One of them was to wear turbans and not to cut hair.
The new generations of most of the families in Fiji and overseas do not keep turbans and hair but they do go to the Sikh temples for prayers, listen to kirtan and believe in the teachings of the Gurus.
They are Sikhs but theoretically, they do not fall into the traditional classification of Khalsa.
They argue they are attending gurdwaras and Khalsa schools and colleges, and, therefore, the fighting spirit of the Khalsa has entered their flesh, bones and blood to meet new challenges and contests of the modern times.
Although the name 'Khalsa' has religious connotations, it is being used now for many things. For example; Khalsa Shipping Company, Khalsa Store, Khalsa Restaurant, etc.
It is perhaps done to indicate that the owners of such businesses are members of the Sikh community. In Fiji, we even have roads named 'Khalsa'.
The 'Khalsa' was born of historical forces confronting the Sikhs of the turbulent period of the 17th century. Since then, the Khlasa community has undergone an evolutionary process.
As it is today, it is a product of many years. The wheels of history have made the term 'Khalsa' comprehensive and is used in a wider sense.
Despite being in the minority, Fiji Sikhs have played an important role in the development of this country since their arrival in the late twenties and early thirties of the last century. In the days of early settlements, they worked in Suva and Nausori areas. Some of them were engaged in small scale farming and shop-keeping business.
Later when new batches arrived from Punjab, particularly from Jalandhar and Hoshiarpur districts, most of them began to work as agriculturists in the Western districts.
As time passed, they spread to all the cane-producing areas including Labasa but there was more concentration in some areas such as Mataniqara and Votua (Ba) Tagitagi (Tavua) Votualevu and Sabeto (Nadi) and Nadiri in Sigatoka.
The Sikh Educational Society was formed in 1960 to look after the educational matters and the Fiji Sikh Association promotes religious and other interests of the community. There are sports, social and cultural groups in all the main towns. Bhangra and gidha have recently become very popular among the Sikhs and non-Sikh communities because of the colourful costumes and fast, rhythmical movements of the dancers. The local radio stations give a lot of prominence to Punjabi songs.
Politically grouped as part of Fiji Indians, the Sikhs have been taking active part in Fiji politics. Some educated young men were elected Members of Parliament in the previous elections
Fiji Sikhs established not only their educational institutions, they also built Sikh temples in Suva, Nasinu, Lautoka, Ba and Labasa. The Suva gurdwara, built in 1922, is the oldest of all.
The population of the Sikhs at present is roughly estimated to be 4000 only. In the sixties and seventies of the last century, it was approximately 10,000 but the wave of migration to greener pastures lured them to move to Australia, New Zealand, USA and Canada. Those who have made Fiji their permanent home, and have no intention of moving to any other part of the world, are industrious, honest and dedicated citizens of this country.
Paying tribute to the Fiji Sikhs during silver jubilee celebrations of Ba Khalsa College and Khalsa Primary in 1984, the late Ratu Toganivalu, then Deputy Prime Minister of Fiji, commented, inter alia, in his opening speech: "The Sikh community occupies an important niche among the farming population in this country. In fact the Sikh community of Fiji is mostly engaged in farming and it has made a valuable contribution to the economy of this country. The Sikhs are hard-working people."
* Jogindar Singh Kanwal is a former principal of Khalsa College, Ba and is the author of many English and Hindi books.
* He is the chairman of the Multi-Ethnic Cultural Centre, Ba.
 Source: Fiji Times