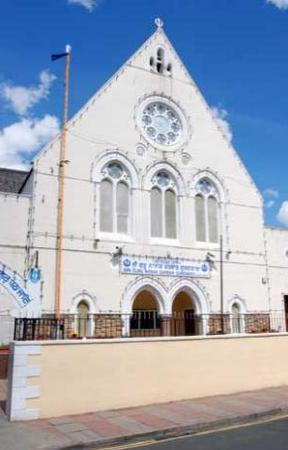 Gravesend, UK: A Sikh community leader has defended its decision to sell a 137-year-old temple for demolition after criticism from a campaign group.
Last month Gravesham Council gave developer Thamesview Living permission to demolish the Siri Guru Nanak Darbar Gurdwara, Clarence Place, Gravesend, and replace it with 19 flats and two houses.
The Gurdwara Management Committee decided to sell the building to the developer for £3.1m to raise money for the new £11m temple it is constructing in Khalsa Avenue.
SAVE, which campaigns to preserve historic British buildings, is set to call for a judicial review into the council's decision to allow the demolition of the temple.
Director William Palin said: "Although unlisted, this fine building, dating from 1872, is in a conservation area and in good condition.
"SAVE believes the council failed to pay proper attention to national heritage guidelines for the demolition of buildings within conservation areas.
"The motive for demolition seems to be purely financial and there is little evidence the feasibility of other uses have been seriously investigated."
However, Gurdwara Management Committee general secretary Narinder Singh says it had been trying to sell the building for re-use for two years before accepting Thamesview Living's offer.
The 56-year-old said: "The Sikh community wants to finish building the new temple and needs the money from the sale of the old Gurdwara."
When deciding to permit the sale, the council's regulatory board concluded the temple was in a state of disrepair and unlikely to attract a buyer who wanted to use the building.
In response to SAVE's threat of legal action, board chairman Councillor Harold Craske said: "In my view the regulatory board's decision was reached correctly.
"On the night we considered everything before us, all the officers reports and objections that had been submitted as well as the opinions of those who addressed the board, and came to our conclusion."
The temple in Clarence Place was designed by renowned architect Sir John Sulman and has been a Sikh temple since 1968.
In 2000 the Gurdwara Management Committee announced plans to build a new temple in Khalsa Avenue for Gravesend's 10,000 Sikhs, and building work began in 2002.
The committee decided the building in Clarence Place would be sold once the Gurdwara in Khalsa Avenue was complete.
Although originally scheduled to be opened in Spring last year, the new Gurdwara was partially opened for religious services on July 1 this year and is expected to be completed in April next year.
The Gurdwara Management Committee decided to sell the Clarence Place building to Thamesview Living in May last year.
Money for the £11m new Gurdwara has been raised through donations from the Sikh community.
For information on the new temple, go to gurunanakdarbar.org