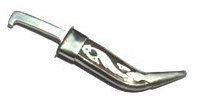 Sacramento, California: Sikh Coalition's press release's on the so called "First Bill on Kirpan" are misleading and sweeping in thin air, by saying this again and again, that, this is a kirpan bill, without clarifying that this is only an education bill …for the kirpan, has resulted in a mockery of the Sikhs, not only in California but worldwide. The Indian media has made statements, stating that the Sikhs in California will not be able to wear a kirpan any longer based on their chain of mis-informing press releases.
The community should issue a strong and a serious warning to the Sikh Coalition to stop issuing misleading spin stories, in order to gain attention.Spread this message around. Put this out on various forums to inform the sangat of the truth, regarding the mis-quoted Kirpan Bill and what it really stood for.
There actually was a true Kirpan bill, a few years back, put up by the sangat of California, many years before the formation of the Sikh Coalition. This bill was also unanimously passed by the both houses but had also been vetoed by the then Governor. I also do seek more granular information on that true Kirpan bill. Can anyone provide it, or maybe help me blog this on most read forums to get the correct information.
Sikh Coalition, you work on behalf of the community, on the dollars given by the community, as a not-for-profit with a 501C3 status. Don't take the charity of the sangat, for granted and continue to fool them.
Read below for more information on the mis-quoted "Kirpan bill", as referred by the Sikh Coalition, but actually, it is a bill on educating the police and nothing more. This weak bill on being passed would have fetched nothing more than what is currently available in each state today, through the training provided by various activists in the USA.
Source: Vivek Singh Sandhu
Action Alert in USA
Neha Singh claims Arnold shows a "lack of religious understanding" and that "he does not understand the value of educating our law enforcement agencies" – NO, that is not what I read. Arnold clearly states that he felt the commission can decide and add/create whatever curriculum they want. He just obviously doesn't feel that this needs to be a LAW (especially, since it would be the first law of its kind). There is a big difference there! It seems to me that the solution is to work with the commission to create the appropriate education.
This bill has nothing to do with kirpan rights.. it is trying to create a LAW stating that police officers must learn about Sikhs and kirpans. The "HOPE" is that police will arrest less Sikhs for carrying a kirpan. That is a poor reason to create a LAW in my opinion.So as far as education goes, we should just work with every police station possible and SHARE our resources. I hope Sikh Coalition will be willing to share their curriculum and presentations with the sikh community at large. Local sangats can take up these battles.Laws aren't the only answers to problems. I agree with Arnold's thinking on this one.If we want laws related to the Kirpan, then let's make it legal to carry a kirpan!