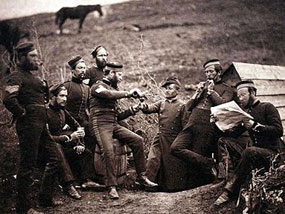 London, UK: An exhibition in London will show unseen photo's, these include photos of Sikhs during World War II.
The earliest images on display are taken by Josh McCosh in 1848 during the war between the Sikh Empire and the British Empire in the Punjab.
The National Army Museum will be showcasing the work in the exhibition First Shots: Early War Photography 1848–1860 at the White Space Gallery in Chelsea, west London, next month
A spokesman said: "First Shots will document war photography in its infancy. Using some of the earliest photos in the museum's collection it will explore what drove its pioneers, the technical, social and environmental pressures which shaped their work and the impact which the images they produced had upon culture and society".
He was sent to the Crimea by Prince Albert in an attempt to alter public opposition to the war and was told before he departed for the frontline: "No dead bodies."
The insider: the day I captured Jimi Hendrix's soulHis pictures were taken on glass plates and processed and printed in a converted wine merchant's horse-drawn wagon. One picture of troops posing shows a group of British and French soldiers enjoying a drink and a smoke in an image called "L'Entente Cordiale".
He was unable to photograph the infamous Charge of the Light Brigade, but documented the cannonball-strewn aftermath of the Valley of Death in 1855.
The work of James Robertson and Felice Beato is also going on show from the Crimean War.
Source: The Sikh Times