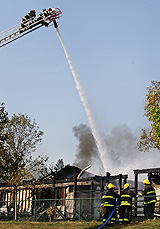 Vancouver, Canada: There was some consolation Thursday for members of Vancouver's Sikh community who could only watch as parts of the Khalsa elementary school where razed by a huge fire that a senior fire official described as suspicious.
Emergency crews managed to rescue a Sikh holy book from burnt-out remains of the school which is part of the South Hill Education Centre in East Vancouver.
A number of Sikh men celebrated with an impromptu parade. "It's amazing that it got saved," said a jubilant Rina Chawla.
Early on Thursday morning, huge plumes of black smoke could be seen billowing from the school, which is located in a residential neighborhood at Prince Albert and East 43rd Street.
The three-alarm fire broke out across the street from the Memorial Park and affected traffic along Fraser Street.
Fire officials have not yet determined the cause of the fire. But Deputy Fire Chief Tom McEwen described it as "very suspicious."
It destroyed six portable buildings on a property that houses both the education centre and Khalsa school.
Still, school principal Jasbir Bhatia, said he was more concerned about the impact on a holy book and other religious artifacts that were housed on the school premises.
"That is why he was more disturbed," he said.
Bhatia told a reporter that when he arrived at the school on Thursday, the offices had been ransacked.
The Khalsa School is run by the non-profit Satnam Society of B.C. It is a Punjabi private religious school, which is comprised of 10 portable buildings.
The land on which the portables sit is leased by the Satnam Society from the Van School Board.
The Khalsa school principal told a reporter that when he arrived at the school on Thursday morning, he found that the offices had been ransacked.
Source: ctvbc.ca